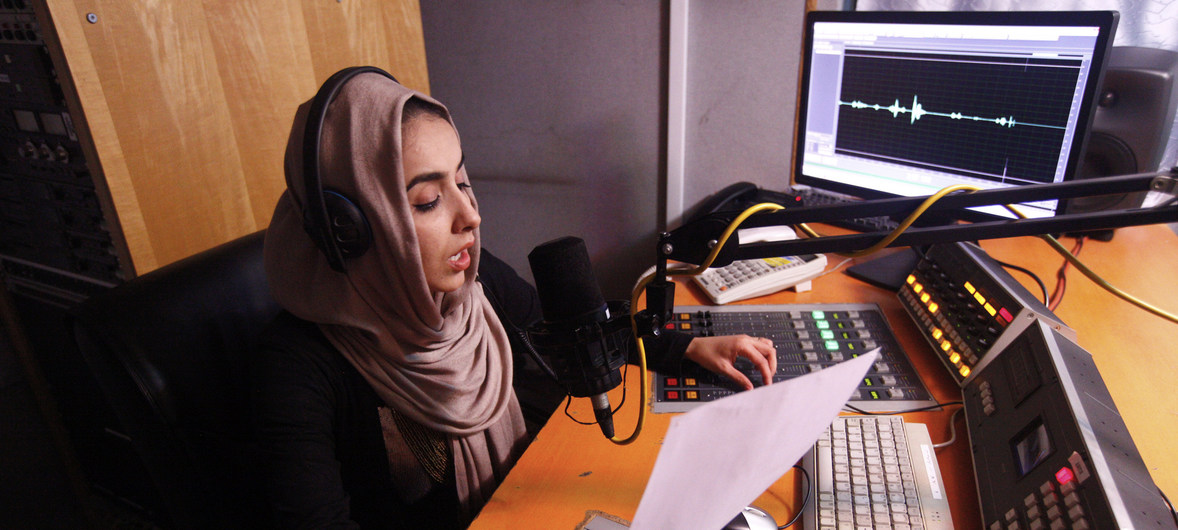 Afghanistan : dans une province d'1,5 millions d'habitants, aucune femme journaliste 
En l'honneur de la journée internationale pour les droits des femmes ce vendredi 8 mars 2019, la MDJ vous propose exceptionnellement la traduction d'un article du média Pajhwok Afghan News. « Il n'y a pas de femme journaliste dans la province du sud-est de Khost sur 1,5 million d'habitants, ont annoncé mercredi 6 mars des responsables. » Au-delà de ce constat, pourquoi aucune rédaction (pourtant nombreuse), n'a de femme journaliste?
« La radio-télévision publique afghane est l'une des cinq chaînes de télévision qui produisent leurs programmes dans la province de Khost, en plus d'une douzaine de radios, mais aucune n'a de journaliste femme.
Les militantes de la société civile et les représentants des médias estiment que les restrictions culturelles, la discrimination fondée sur le sexe et le manque de soutien de la famille empêchent les femmes de travailler dans les médias.
Selon eux, les problèmes des femmes à Khost demeurent sans réponse car il n'ya pas de journaliste féminine pour faire valoir leur sort.
Palwasha, directrice du département Genre de l'Université Sheikh Zayed, a déclaré lors d'une réunion à Khost City que la plupart des femmes et des filles instruites étaient intéressées par le travail dans les médias, mais qu'une culture inappropriée les en empêchait. Elle a déclaré:
« Les femmes représentent la moitié de notre société, elles font face à de nombreux problèmes spécifiques, c'est à dire des problèmes que les hommes ne peuvent pas traiter. »
Amanullah Haqmal, directrice d'une radio locale, Ghag, a déclaré à Pajhwok Afghan News qu'outre les barrières culturelles, c'est le manque d'éducation des femmes dans cette région d'Afghanistanqui contribue à la pénurie de femmes journalistes dans la province.
Amanullah Haqmal a ajouté que si le gouvernement et les organisations non gouvernementales mettaient en place des programmes de formation pour les femmes journalistes, cette initiative aiderait à résoudre le problème.
Saifullah Hayat, responsable du Comité de la sécurité des journalistes pour la zone sud-est, a également confirmé qu'il n'y avait aucune journaliste féminine à Khost et a exhorté les responsables locaux et les familles à laisser leurs femmes travailler avec confiance dans le secteur des médias. »
Source : Pajhwok Afghan News
.@IsobelYeung went to Afghanistan to examine the fight for women's rights in the country. This is her debrief.https://t.co/WsNFjaRnX0

— VICE (@VICE) April 9, 2016
De nombreux médias existent en Afghanistan, les journalistes y sont d'ailleurs souvent pris pour cible. Pour preuve, le triste record de journalistes tués en 2018 à travers le monde revient à l'Afghanistan.